Title: A Change of Heart
Author: Sonali Dev
Published: 27 September 2016
Publisher: Kensington
Source: Netgalley
Rating: 5/5
Synopsis
Dr. Nikhil 'Nic' Joshi had it all—marriage, career, purpose. Until, while working for Doctors Without Borders in a Mumbai slum, his wife, Jen, discovered a black market organ transplant ring. Before she could expose the truth, Jen was killed.
Two years after the tragedy, Nic is a cruise ship doctor who spends his days treating seasickness and sunburn and his nights in a boozy haze. On one of those blurry evenings on deck, Nic meets a woman who makes a startling claim: she received Jen's heart in a transplant and has a message for him. Nic wants to discount Jess Koirala's story as absurd, but there's something about her reckless desperation that resonates despite his doubts.
Jess has spent years working her way out of a nightmarish life in Calcutta and into a respectable Bollywood dance troupe. Now she faces losing the one thing that matters—her young son, Joy.  She needs to uncover the secrets Jen risked everything for; but the unforeseen bond that results between her and Nic is both a lifeline and a perilous complication.
Delving beyond the surface of modern Indian-American life, acclaimed author Sonali Dev's page-turning novel is both riveting and emotionally rewarding—an extraordinary story of human connection, bravery, and hope.
Review
Dear Lord! This review took forever to be posted. I finished reading this LAST YEAR! But because I felt that it was so good and it made me have the feels till I just couldn't write a review then and there, I decided to take a breather. I took a breather alright. 6 months of breathing it out. Procrastination and laziness at its best here ladies and gentleman.
This is my first book which I wished for in Netgalley and by the good graces of the publishers they granted me my wish. I chose the book because the cover was so beautiful and as a big fan of 90's Bollywood movies I couldn't just pass this book and opportunity up and I was not disappointed. Please enjoy the countless Bollywood gifs I put below 😀
In this book we read about Nikhil and Jess, two individuals who experienced their own horrific tragedies but are brought together by the sinister planning and manipulation of the criminal, Asif Khan.
Both the tragedies humanises Nikhil and Jess in the form of how they coped with what happened to them. With Nikhil, he became an alcoholic and hoping for death yet not fully willing to commit suicide whereas Jess she did what she had to do to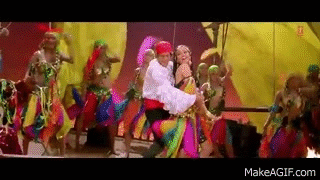 survive and refused to even think about her experience which caused her to still have PTSD. These two characters complement each other in a way that because they are both so broken they mend each others wound and fit better together. They empathise with the other persons' pain more even if they don't fully understand what the other is going through as compared to other people. They understand each other better I would say and it was because of this I didn't feel weirded out or annoyed by how short of a time span that these two fell in love or cared deeply about the other.
The book is told from 4 different POVs where the main ones are of course from Jess and Nikhil and towards the end of the book we get to read the POV of DCP Rahul Savant and the criminal, Asif Khan. These differences worked great for me as a reader as it kept me guessing as to what is really going on and who is the guilty party or the mastermind here.
I love how the book gave us a glimpse into the illegal organ trade going on. It didn't go into too much detail as it wanted to keep the focus mainly on the main characters yet it managed to shed light on who/where the organs are obtained and to whom it was given to.
This book towards the end made me question myself as to how far will I be willing to push or be willing to sacrifuce to save someone I love? The organs taken for the illegal organ trade, was taken from (I'm sorry to say) essentially from people who
don't matter much in society. People who we wouldn't even realize nor know that they went missing. In return, their organs will save people who will matter, who will be missed, so it begs the question if it happened to you and this was the only way will you do it? Knowingly, kill someone to save someone you love and knowing that you might never be caught.
The writing in this book is superb in my opinion because it made me have so much feels which is rare. I empathized with the characters, felt their pain and their joy and understood why they complement each other and even with the happy ending I didn't judge said happy ending, I understood it.
Aside from that, I also loved the ending of the book where eventhough the main characters have their happy ending the fight against the illegal organ trade still goes on which reflects the problem we have right now in reality with this serious problem.
*I received this book from the publishers via Netgalley in return for an honest review
**Yes I do realize that the pics have nothing to do with my review but hey whatever.