Teaser Tuesday is a weekly bookish meme, hosted by The Purple Booker.
Anyone can play along! Just do the following:
• Grab your current read
• Open to a random page
• Share two (2) "teaser" sentences from somewhere on that page
• BE CAREFUL NOT TO INCLUDE SPOILERS! (make sure that what you share doesn't give too much away! You don't want to ruin the book for others!)
• Share the title & author, too, so that other TT participants can add the book to their TBR Lists if they like your teasers!
This is my choice of the day:
Five Little Pigs by Agatha Christie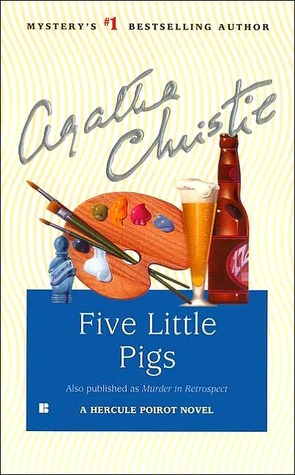 page 48:
Superintendent Hale paused,drew a deep breath and passed, as it were, to Chapter Two.
Mr. Philip Blake had urged his brother to come over to Alderbury at once and they would talk the matter over.
Blurb:
Beautiful Caroline Crale was convicted of poisoning her husband, but just like the nursery rhyme, there were five other "little pigs" who could have done it: Philip Blake (the stockbroker), who went to market; Meredith Blake (the amateur herbalist), who stayed at home; Elsa Greer (the three-time divorcée), who had her roast beef; Cecilia Williams (the devoted governess), who had none; and Angela Warren (the disfigured sister), who cried all the way home.
Sixteen years later, Caroline's daughter is determined to prove her mother's innocence, and Poirot just can't get that nursery rhyme out of his mind.